I am a UX Strategist.
How am I different than UI/UX designers.
My passion on every project is to understand the

"WHY"

behind the project and the company passion; so I can deliver that message to the target audience for the product or services. After carefully analyzing data based on

Human-Factor Psychology

,

Research

,

Design Pattern

, and other human-computer interaction methodologies I will translate the result into Persona, Journey Mapping, Information Architecture, Wireframe and Prototype. 
"UX Strategy lies at the crossroads of UX design and business strategy. It's a plan-of-action on how to find out if the user experience of a product is aligned with the business objectives (Levy, 2015). It is used to create an understanding between designers and the goals of the business/product/feature. More specifically, it's a document of guidelines and rules that outline how the design team aims to achieve the organisation/product objectives. Every part of the strategy should be researched, vetted and approved by relevant stakeholders (Hoekman, 2015)."
To read from the source:
https://medium.com/@Neilod86/the-importance-of-ux-strategy-3fa0dee4b2e2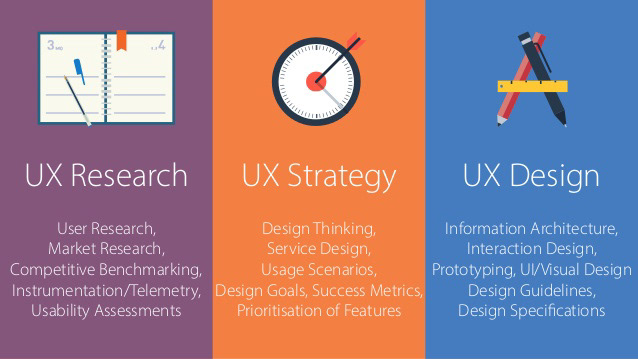 Many people confuse these different titles. Here is just an example overview of the difference between the same field but different approaches and different pattern. 
https://www.linkedin.com/in/matin-mohammadi-uxd/
While many UI/UX Designers focus on how to show

mockups

, our job is to show what really goes behind the scene. We got to show the

research process, the brand identity, User persona, Information Architecture

and other methodologies that has been not the focus on the market such as

Lean UX

,

Conversational Design

,

Augmented Reality

and

Virtual Reality

which are my passion. 
Our job is to show why people do what they do and predict how they do it. Then based of those scenarios create a design and wireframes that reflects that. 
We can still do

Wireframe, Design and Mockups

 but our focus is more about

functionality

rather than just visual.